Wilder T Doucette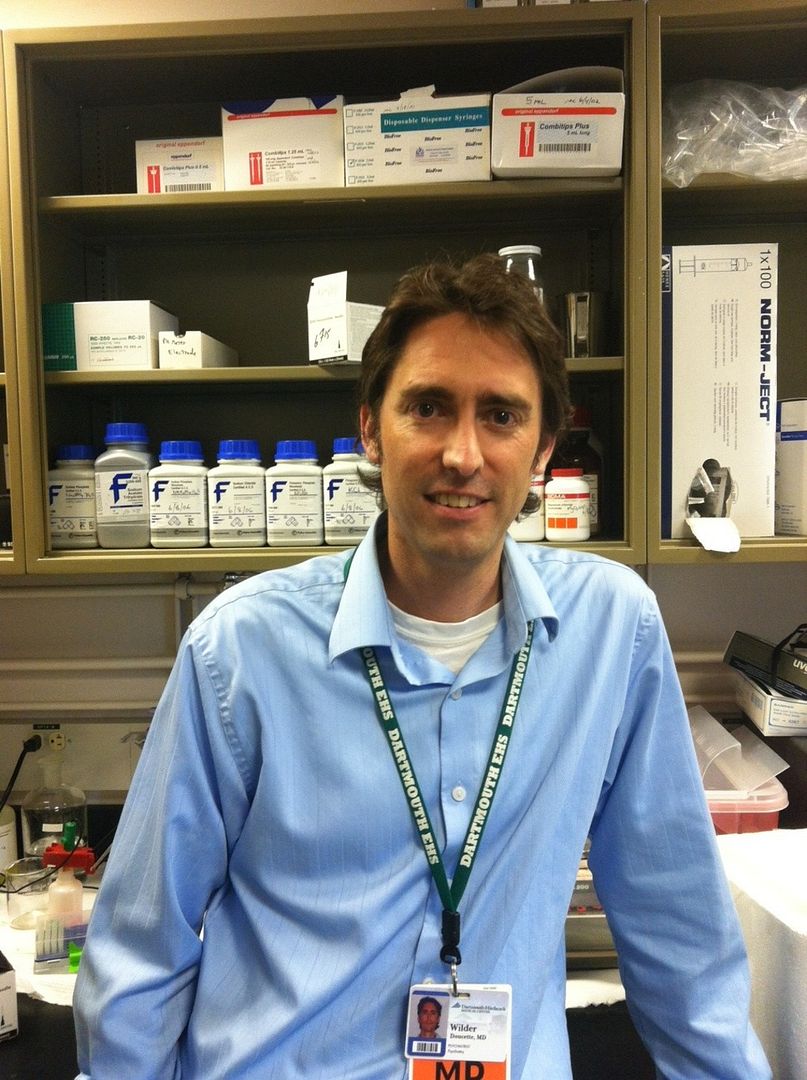 Title(s):
Assistant Professor of Psychiatry
Department(s):
Psychiatry

Education:
2000 B.A., Colby College
2008 Ph.D., University of Colorado Health Sciences Center
2010 M.D., University of Colorado Health Sciences Center
2010-2014 Psychiatry Residency, DHMC/ Geisel School of Medicine at Dartmouth
Programs:
Mood Disorders Service (DMS Department of Psychiatry)
Neuroscience Center at Dartmouth
Program in Experimental and Molecular Medicine
SYNERGY

Websites:
http://geiselmed.dartmouth.edu/pemm/

Bibliography at: http://www.ncbi.nlm.nih.gov/sites/myncbi/1FGrdctmaIV5G/bibliography/47865508/public/?sort=date&direction=ascending

Contact Information:
---
Professional Interests:
I am interested in the ability of focal neuromodulation to change brain reward circuit activity to correct dysfunctional appetitive behaviors that are a component of a number of important psychiatric and medical illnesses. We are currently using deep brain stimulation (DBS) to focally modulate the brain reward circuit in a pre-clinical model of binge eating. We are currently using a simultaneous combination of deep brain stimulation and multi-site electrophysiological recordings from the brain reward circuit during binge eating behavior. This approach will address current knowledge gaps that may lead to improved treatment outcomes and increase enthusiasm for clinical translation. My work strives to advance the field of focal neural modulation with translational implications for treatment modalities such as deep brain stimulation and transcranial magnetic stimulation with possible generalization to other appetitive disorders such as addiction and obesity.
Rotations and Thesis Projects:
Grant Information:
SYNERGY Pilot Award: 2014-2016: Enhancing stimulator design for chronic implantation in pre-clinical models: Towards the development of a DBS treatment for binge eating and obesity

Gary Tucker Junior Investigator Award: 2015-2016: Identifying sources of variation in deep brain stimulation outcomes: Toward individualized DBS treatment for binge eating

Biography:
Wilder Doucette, MD, PhD, is Assistant Professor of Psychiatry at the Geisel School of Medicine and Dartmouth-Hitchcock Medical Center in Lebanon, New Hampshire. Dr. Doucette attended Colby College where he graduated with a B.A. in Biology. He then attended the University of Colorado Health Sciences Center from 2001 to 2010 where he completed an MSTP program for a combined M.D. and Ph.D. in Neuroscience. He then completed his psychiatry residency at Dartmouth Hitchcock Medical Center in 2014. He joined the faculty of the Department of Psychiatry at Dartmouth in 2014 as an Assistant Professor. Dr. Doucette is faculty in the Neurosciences Division of the Program in Experimental and Molecular Medicine (PEMM).
---