Wilder T Doucette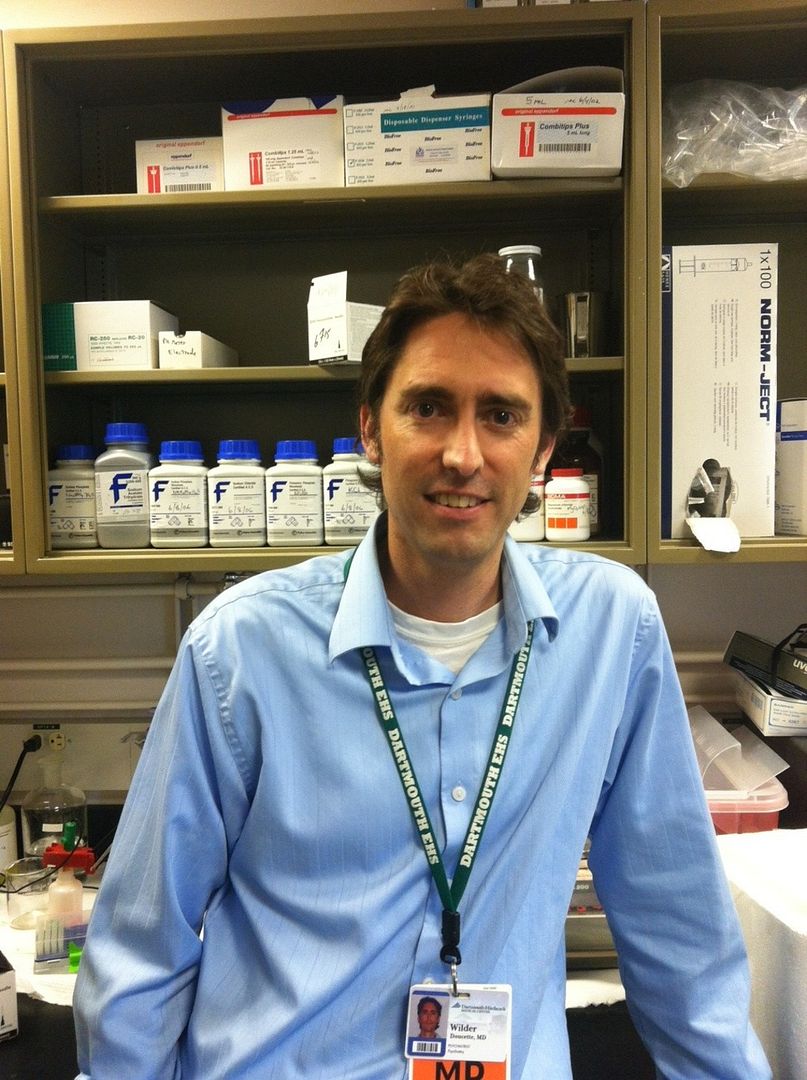 Title(s)
Assistant Professor of Psychiatry
Additional Titles/Positions/Affiliations
Program Director, Psychiatry Residency Research Track
Department(s)
Psychiatry

Education
2000 B.A., Colby College
2008 Ph.D., University of Colorado Health Sciences Center
2010 M.D., University of Colorado Health Sciences Center
2010-2014 Psychiatry Residency, DHMC/ Geisel School of Medicine at Dartmouth
Programs
Mood Disorders Service (DMS Department of Psychiatry)
Neuroscience Center at Dartmouth
Program in Experimental and Molecular Medicine
Psychopharmacology Research Group
SYNERGY

Websites
https://www.doucettelab.com/

Bibliography at: http://www.ncbi.nlm.nih.gov/sites/myncbi/1FGrdctmaIV5G/bibliography/47865508/public/?sort=date&direction=ascending

Contact Information
---
Professional Interests
Our research group is interested in understanding the link between brain network activity and dysfunction in high impact psychological domains (e.g., impulsive and risky decision making) that are common domains of dysfunction across many neuropsychiatric disorders. We believe that through this understanding, current and emerging treatments can be personalized to match an individual's specific brain dysfunction and improve treatment outcomes. Our work evaluates the use of brain activity to guide the targeting and tuning of cutting-edge network-based interventions (e.g., transcranial magnetic stimulation [TMS] and deep brain stimulation [DBS]) to correct dysfunctional brain activity. We use electrophysiological and brain imaging read-outs of brain activity paired with advanced computational approaches (machine learning) to understand how to transform problematic brain activity back to normal.
A current limitation of non-invasive stimulation approaches, such as TMS, is that the effects of stimulation wear off in between treatment sessions. We are evaluating the use of novel stimulation approaches as well as pairing stimulation with psychedelics to prolong the therapeutic changes induced with brain stimulation.

Grant Information
K08 Award - MH117347 Doucette (PI) 03/2019-03/2023
NIMH
Computationally guided modulation of cortical-striatal activity: Toward brain stimulation-based treatments for impulsive and risky decision making

R01DA034699 Green (PI) 09/2013-03/2019
NIDA
Cannabis, schizophrenia and reward: self-medication and agonist treatment?
Using neuroimaging techniques, as well as behavioral measures of reward responsiveness, this study aims to assess the effects of smoked cannabis and oral dronabinol (THC) on the brain reward circuit in patients with schizophrenia and co-occurring cannabis use disorder, as well as in patients with cannabis use disorder alone.


Biography
Dr. Doucette is a board-certified psychiatrist with a PhD in neuroscience whose research informed part-time clinical practice includes addiction psychiatry and neuromodulation (TMS and ECT). The overarching goal of his research is to advance the personalized implementation of circuit-based interventions for psychiatric illness. Dr. Doucette uses a combination of approaches to measure and manipulate neural networks in rodents to assess potential strategies to improve neuromodulation outcomes. Dr. Doucette received his MD/PhD from the University of Colorado and his graduate work demonstrated how norepinephrine modulated synchrony within the olfactory network during odor discrimination tasks using a combination of pharmacologic and electrophysiologic methods. He then completed his residency in Psychiatry at Dartmouth-Hitchcock Medical Center where he is currently an Assistant Professor. He currently serves as Program Director for the Psychiatry Residency Research Track and is a member of the training faculty for the Addiction Fellowship and the Neurosciences Division of the Program in Experimental and Molecular Medicine (PEMM). He has received multiple institutional grants supporting his work including a KL2 from Dartmouth's CTSA (SYNERGY). He is currently supported by a K08 from NIMH to identify systems-level neural biomarkers of impulsive and risky decision-making.
---
Selected Publications

Maternal immune activation and adolescent alcohol exposure increase alcohol drinking and disrupt cortical-striatal-hippocampal oscillations in adult offspring.
Henricks AM, Sullivan EDK, Dwiel LL, Li JY, Wallin DJ, Khokhar JY, Doucette WT
Transl Psychiatry. 2022 Jul 20;12(1):288. doi: 10.1038/s41398-022-02065-y. Epub 2022 Jul 20.
PMID: 35859084

Chronic chemogenetic manipulation of ventral pallidum targeted neurons in male rats fed an obesogenic diet.
Doucette WT, Smedley EB, Ruiz-Jaquez M, Khokhar JY, Smith KS
Brain Res. 2022 Jun 1;1784:147886. doi: 10.1016/j.brainres.2022.147886. Epub 2022 Mar 18.
PMID: 35314149

The Impact of Adolescent Alcohol Exposure on Nicotine Behavioral Sensitization in the Adult Male Neonatal Ventral Hippocampal Lesion Rat.
Sullivan EDK, Locke LN, Wallin DJ, Khokhar JY, Bragg EM, Henricks AM, Doucette WT
Front Behav Neurosci. 2021;15:760791. doi: 10.3389/fnbeh.2021.760791. Epub 2021 Nov 11.
PMID: 34858148

Acquisition of Resting-State Functional Magnetic Resonance Imaging Data in the Rat.
Wallin DJ, Sullivan EDK, Bragg EM, Khokhar JY, Lu H, Doucette WT
J Vis Exp. 2021 Aug 28;(174) doi: 10.3791/62596. Epub 2021 Aug 28.
PMID: 34515680

Sex differences in the ability of corticostriatal oscillations to predict rodent alcohol consumption.
Henricks AM, Sullivan EDK, Dwiel LL, Keus KM, Adner ED, Green AI, Doucette WT
Biol Sex Differ. 2019 Dec 18;10(1):61. doi: 10.1186/s13293-019-0276-0. Epub 2019 Dec 18.
PMID: 31849345

Corticostriatal Oscillations Predict High vs. Low Drinkers in a Rat Model of Limited Access Alcohol Consumption.
Henricks AM, Dwiel LL, Deveau NH, Simon AA, Ruiz-Jaquez MJ, Green AI, Doucette WT
Front Syst Neurosci. 2019;13:35. doi: 10.3389/fnsys.2019.00035. Epub 2019 Aug 13.
PMID: 31456669

Finding the balance between model complexity and performance: Using ventral striatal oscillations to classify feeding behavior in rats.
Dwiel LL, Khokhar JY, Connerney MA, Green AI, Doucette WT
PLoS Comput Biol. 2019 Apr;15(4):e1006838. doi: 10.1371/journal.pcbi.1006838. Epub 2019 Apr 22.
PMID: 31009448

Machine Learning Based Classification of Deep Brain Stimulation Outcomes in a Rat Model of Binge Eating Using Ventral Striatal Oscillations.
Doucette WT, Dwiel L, Boyce JE, Simon AA, Khokhar JY, Green AI
Front Psychiatry. 2018;9:336. doi: 10.3389/fpsyt.2018.00336. Epub 2018 Aug 3.
PMID: 30123143

The link between schizophrenia and substance use disorder: A unifying hypothesis.
Khokhar JY, Dwiel LL, Henricks AM, Doucette WT, Green AI
Schizophr Res. 2018 Apr;194:78-85. doi: 10.1016/j.schres.2017.04.016. Epub 2017 Apr 14.
PMID: 28416205

Behavioral Status Influences the Dependence of Odorant-Induced Change in Firing on Prestimulus Firing Rate.
Li A, Guthman EM, Doucette WT, Restrepo D
J Neurosci. 2017 Feb 15;37(7):1835-1852. doi: 10.1523/JNEUROSCI.3132-16.2017. Epub 2017 Jan 16.
PMID: 28093474