George A. O'Toole Jr, PhD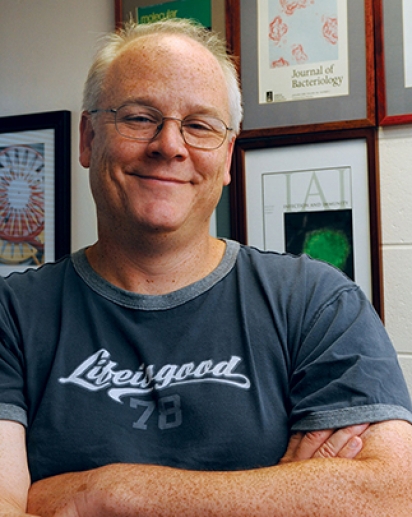 Title(s)
Professor of Microbiology and Immunology
Department(s)
Microbiology and Immunology

Education
University of Wisconsin - Madison, Ph.D., 1994
Cornell University, B.S., 1988

After postdoctoral work at the University of Wisconsin-Madison and Harvard Medical School, Dr. O'Toole joined the faculty of the Department of Microbiology at Dartmouth Medical School in 1999.
Programs
Molecular and Cellular Biology Graduate Programs

Websites
O'Toole Lab
Microbiology and Molecular Pathogenesis Program
Dept of Microbiology & Immunology
Molecular Cellular Biology Grad Program

Academic Analytics
View Profile
Contact Information
Geisel School of Medicine
Remsen Building, Rm 202 - HB 7550
Hanover NH 03755
Office: 202 Remsen
Phone: 603-650-1248
Email: georgeo@Dartmouth.Edu

---
Professional Interests
The main focus of the O'Toole laboratory is the study of complex surface-attached bacterial communities known as biofilms. Biofilms can form on a wide variety of surfaces including catheter lines, surgical implants, contact lenses, the lungs of patients with cystic fibrosis, industrial and drinking water pipelines, and on the surfaces of plant roots. In most natural, clinical, and industrial settings bacteria live predominantly in biofilms and not as planktonic (free-swimming) cells such as those typically studied in the laboratory. Bacteria growing in biofilm communities are of great interest to the medical community, because these bacteria become highly resistant to antibiotics by an as yet unknown mechanism. Although much has been learned about the types of microbes that can form biofilms, the morphology of these communities, and their chemical/physical properties, until recently little was known about the molecular genetic basis of biofilm formation or antibiotic resistance.

Studies in the O'Toole lab focus on:
>Polymicrobial infections and antibiotic tolerance in cystic fibrosis.
>The role of gut microbiota in airway disease in infants with cystic fibrosis.
>The signal transduction pathways regulating biofilm formation and surface sensing.
>The role of the intracellular signaling molecule c-di-GMP in controlling biofilm formation by Pseudomonads.


---
Journal of Bacteriology: 2023 in Review.
O'Toole GA
J Bacteriol. 2023 Dec 7;:e0038123. doi: 10.1128/jb.00381-23. Epub 2023 Dec 7.
PMID: 38059586

Reconstitution of a Biofilm Adhesin System from a Sulfate-Reducing Bacterium in Pseudomonas fluorescens.
Karbelkar AA, Font ME, Smith TJ, Sondermann H, O'Toole GA
bioRxiv. 2023 Nov 22; pii: 2023.11.22.568322. doi: 10.1101/2023.11.22.568322. Epub 2023 Nov 22.
PMID: 38045380

Antibacterial Efficacy of Manuka Honey-Doped Chitosan-Gelatin Cryogel and Hydrogel Scaffolds in Reducing Infection.
Mitchell K, Panicker SS, Adler CL, O'Toole GA, Hixon KR
Gels. 2023 Nov 6;9(11) doi: 10.3390/gels9110877. Epub 2023 Nov 6.
PMID: 37998967

Biofilms 2022: back and better than ever.
O'Toole GA
J Bacteriol. 2023 Nov 6;205(11):e0022523. doi: 10.1128/jb.00225-23. Epub 2023 Nov 6.
PMID: 37930065

The accumulation and growth of Pseudomonas aeruginosa on surfaces is modulated by surface mechanics via cyclic-di-GMP signaling.
Wang L, Wong YC, Correira JM, Wancura M, Geiger CJ, Webster SS, Touhami A, Butler BJ, O'Toole GA, Langford RM, Brown KA, Dortdivanlioglu B, Webb L, Cosgriff-Hernandez E, Gordon VD
NPJ Biofilms Microbiomes. 2023 Oct 10;9(1):78. doi: 10.1038/s41522-023-00436-x. Epub 2023 Oct 10.
PMID: 37816780

Transcriptional profiling and genetic analysis of a cystic fibrosis airway-relevant model shows asymmetric responses to growth in a polymicrobial community.
Kesthely CA, Rogers RR, El Hafi B, Jean-Pierre F, O'Toole GA
Microbiol Spectr. 2023 Sep 29;11(5):e0220123. doi: 10.1128/spectrum.02201-23. Epub 2023 Sep 29.
PMID: 37772884

Double-anonymous peer review comes to JB.
O'Toole GA
J Bacteriol. 2023 Oct 26;205(10):e0008022. doi: 10.1128/jb.00080-22. Epub 2023 Sep 25.
PMID: 37747191

The regulator FleQ both transcriptionally and post-transcriptionally regulates the level of RTX adhesins of Pseudomonas fluorescens.
Pastora AB, O'Toole GA
J Bacteriol. 2023 Sep 26;205(9):e0015223. doi: 10.1128/jb.00152-23. Epub 2023 Sep 1.
PMID: 37655913

An In Vitro Medium for Modeling Gut Dysbiosis Associated with Cystic Fibrosis.
Barrack KE, Hampton TH, Valls RA, Surve SV, Gardner TB, Sanville JL, Madan JC, O'Toole GA
bioRxiv. 2023 Aug 2; pii: 2023.08.01.551570. doi: 10.1101/2023.08.01.551570. Epub 2023 Aug 2.
PMID: 37577487

Assessment of the Glycan-Binding Profile of Pseudomonas aeruginosa PAO1.
Sanchez H, O'Toole GA, Berwin B
Microbiol Spectr. 2023 Aug 17;11(4):e0166723. doi: 10.1128/spectrum.01667-23. Epub 2023 Jul 20.
PMID: 37470715